Projeto Editorial da disciplina de Prática Projetual em Design Gráfico III da Universidade do Estado de Santa Catarina.

O objetivo do nosso projeto era criar uma revista de design que se destacasse das demais em todos os aspectos, mas principalmente do conteúdo. Muitas revistas sobre design no mercado são um grande portfolio e não produzem matérias com profundidade, sendo supérfluas. Nossa revista quer mostrar tanto projetos finalizados quanto os seus processos de criação, pois achamos que o leitor poderia se aproximar mais das pessoas que os inspirassem, mostrando que nenhum projeto de design possui uma fórmula mágica para ser produzida.
O nome escolhido para a nossa revista veio a partir de uma ação que muitos fazem enquanto estão em algum processo de criação, que são rabiscos, ou em inglês, doodles. Mas como queremos reforçar que nossa revista irá mostrar as três áreas escolhidas do design (gráfico, produto e digital), optamos por colocar um terceiro "o" para mostrar que as três áreas estão ali representadas e unidas.

A tagline "processo criativo em revista" é sucinta para que o leitor identifique rapidamente o assunto da revista.
 

Editorial project of the Practice of Projects subject from the course of Graphic Design of the State University of Santa Catarina.
The goal of our project was to create a design magazine that would contrast from the others on the market already in all the aspects, but mainly on the subject. Many magazines about design on the market are just a big portfolio and don't produce deep articles, being very shallow. Our magazine wants to show the final version of the projects but the making process of them as well, because we believe that the reader would get closer to the people who inspire them, showing that there is not a design project with a magical formula to be produced.
The chosen name for our magazine came from the action that many people do while creating, that are doodles. But as we wanted to reinforce that our magazine would show the three chosen areas of design (graphic, product and digital), we opted to put a third "o" to show that the three areas are there represented and united.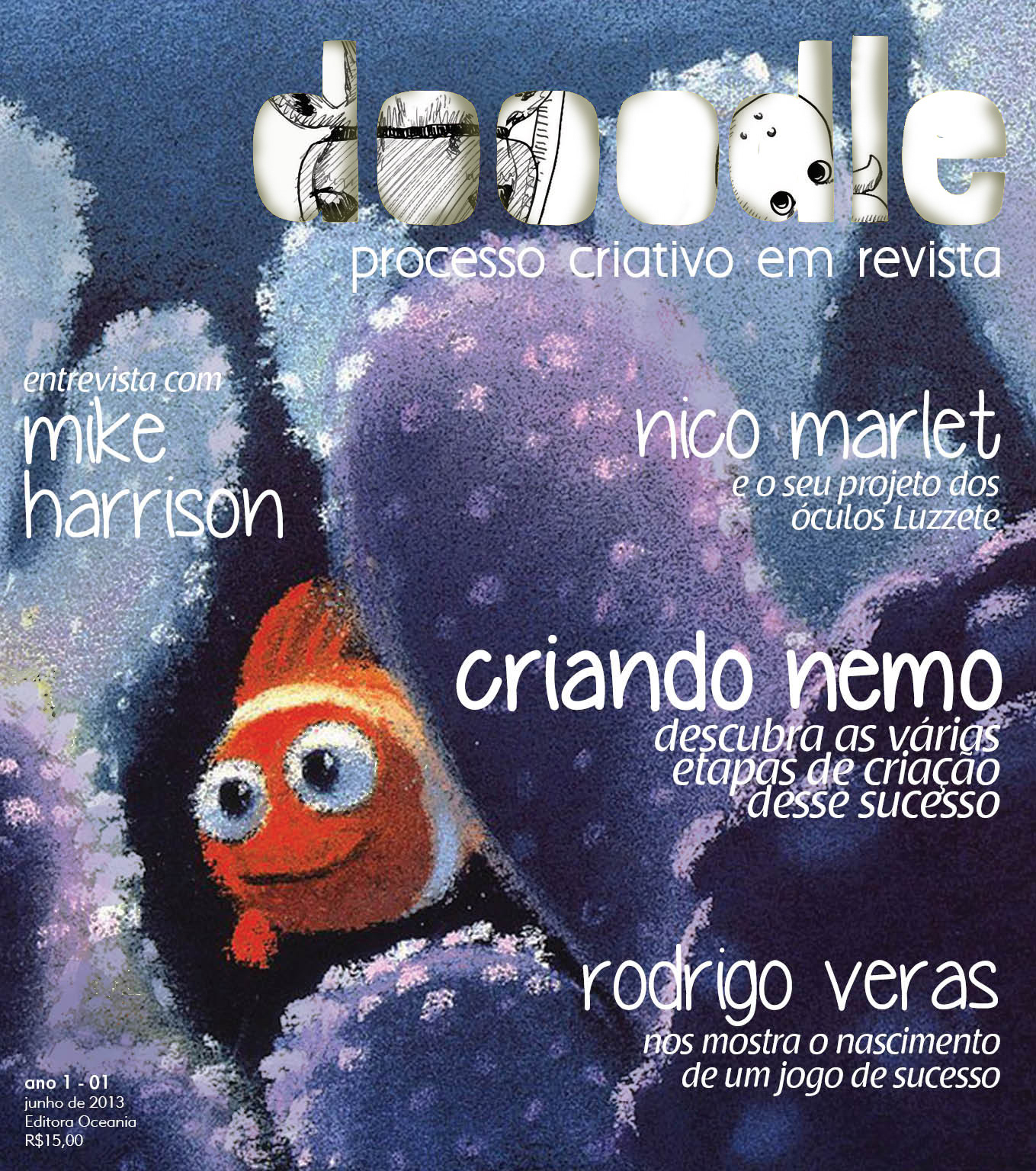 Abaixo algumas páginas exemplo da revista.

No miolo da revista vemos o conceito de doodles em todos os lugares, com pequenos desenhos pela revista. Assim como nas cartolas.
Below are some example pages of the magazine.
In the core of the magazine wee see the concept of doodles everywhere, with little drawings through the magazine. As well in the titles of it.